Expertise
Brian is a charismatic and engaging speaker with powerful messages that arouse the audience's curiosity in how learning in the workplace, or in further and higher educational settings is best achieved with lasting effects. He blends elements of Neuro-Linguistic Programming and Humanology in his speaking, coaching and training sessions to bring about the designed outcome of: motivated individuals creating change.


Innovative and Creative

Founder of Mode Neutral Pedagogy


On and Offline Learning Platforms

Five Levers to Learning Success


Collaboration and Partnership

Company Ambassador and Presenter


Board Level Influencel

Commercially & Strategically Astute

Bid, Tender and Funding Control

Award-winning individual - Brian has worked in and with a diverse sector group for several years with 32 years clinical experience (eleven of those in clinical education), 5 years in Further Education teaching (part-time)and 18 years in Higher Education. In previous roles, he managed and taught healthcare apprenticeship schemes, nursing, allied health professional education, and contributed significantly to medical education. Running concurrently with his full time post, in the 1990's he trained as a psychodynamic counsellor and ran a private counselling clinic. During this time he contributed significant to Edexcel and City & Guilds London Institute in the design of NVQ awards and undertook vocational external verifier roles. He oversaw UK commercial training organisations offering NVQs in business administration, advice, guidance, counselling and psychotherapy, management and leadership, and operating department practice.

His former role as Head of Technology Enhanced Learning, University Learning and Teaching Fellow at Edge Hill University contributed to career development in Healthcare research which later extended into other disciplinary groups when he become the UK's leading expert on Technology Enhanced Learning. In 2012, he received the prestigious award of Higher Education Academy National Teaching Fellow that led to him being in great demand from other universities and further education colleges and commercial companies.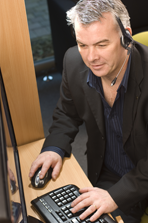 Achievements - He is the Founder of the Five Levers™ and is the co-founder of a novel teaching and learning method - Mode Neutral pedagogy. Brian has championed the integration of digital assets by playing a key role as a Senior Fellow within numerous University's Centre of Excellence in Teaching and Learning. He has worked in collaboration with medical deaneries, cancer networks, independent health sectors, primary care trusts and other higher education universities for service improvement and enhanced learner experiences. Brian has continued to contribute to the health sector by completing tenure as the Editor of the Journal of Perioperative Practice, he continues to practice in perioperative settings and coaches operating theatre teams to become high performing teams.His PhD is focused on the behaviour and psychology of learners which has led to a new framework Five Levers™


Qualifications
PhD
Masters in Education (eLearning)
Post-Graduate Certificate in Higher Education Teaching, Learning and Support
BSc(Hons) Organisation and Management studies
Licensed Neuro-linguistic Programming Practitioner
National Vocational Qualifications Level 3 in Management
Certificate in Education
Diploma in Psychodynamic Counselling
Adult Education Teachers Certificate (7307)
TDLB D32,D33 Assessor
TDLB D34 Internal Verifier
TDLB D35 External Verifier
TDLB D36 APL Advisor
Prince2
Registered Operating Department Practitioner
Membership
Member of the Association for National Teaching Fellows
Trustee of the Association for Perioperative Practice
Sectors
Higher Education
Further Education
Vocational Education
NHS
Independent Healthcare
Commercial sector
Pharmaceutical Industry
Medical Deanery
Skills
Advisor on Apprenticeship standards
Designing and Authoring eLearning
Coaching
Presenting
Facilitating webinars
Virtual World education
Supervising learners
Public Speaking
Quality Assurance
Critical review reports
Training needs analysis
Awards
National Teaching Fellow
Principal Fellow
Teaching and learning Fellow